FOLLOWING MENU IS NOT AVAILABLE RIGHT NOW
WE ARE WORKING ON NEW ONE
We offer every week new selection of lunch menu for special prices and authentic taste. For each day you can get one Thai soup, main menu and dessert.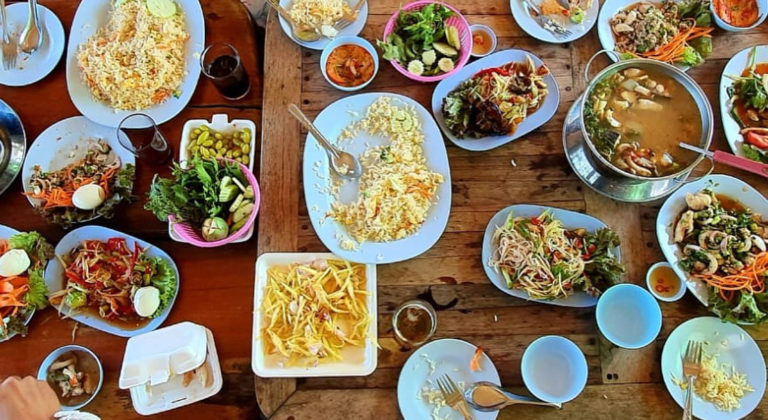 prices are set in CZK and EUR
2 psc fried vegetable spring rolls served with sweet chilli sauce.
2psc (120 g), deep fried shrimp cakes served with sweet plum sauce.
2 psc (120 g), grilled chicken skewers served with peanut sauce.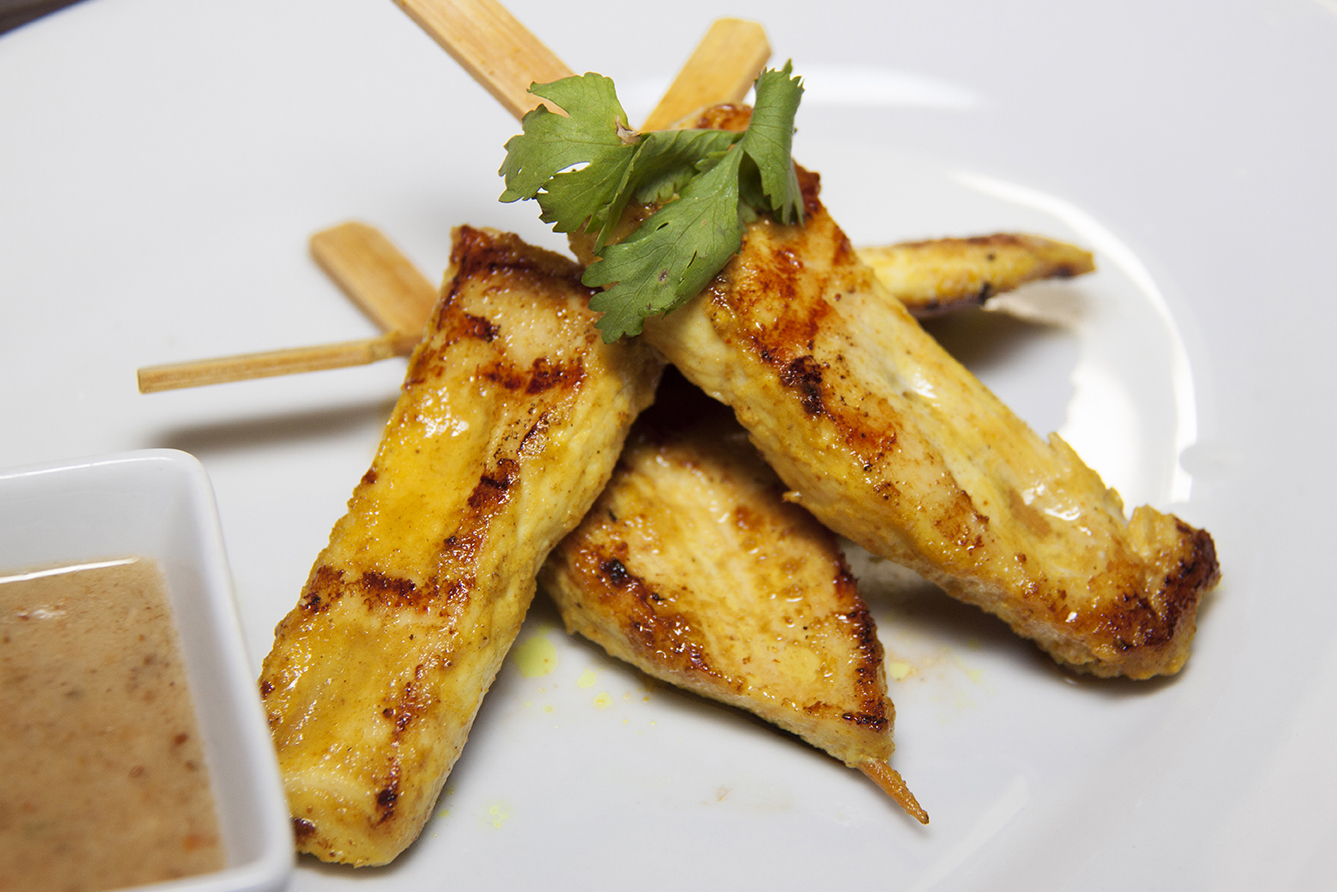 300 ml, piquant coconut milk soup with oyster mushroom, galangal roots, lemon grass and kafir-lime leaves and ….
300 ml, spicy soup with thai herbs and oyster mushroom and …
with prawns, seafood, 50g
800 ml, a big soup with fresh vegetable, rice noodles, spring onion, fried garlic, bean sprouts and coriander and …
200 g, extra spicy salad with shrimps (40 g) and peanuts and …
North Eastern Thai-style Spicy Salad
200 g, spicy salad from mixed seafood, green mussel, squid, prawns, lemon grass, cashew nuts, celery, coriander and onion.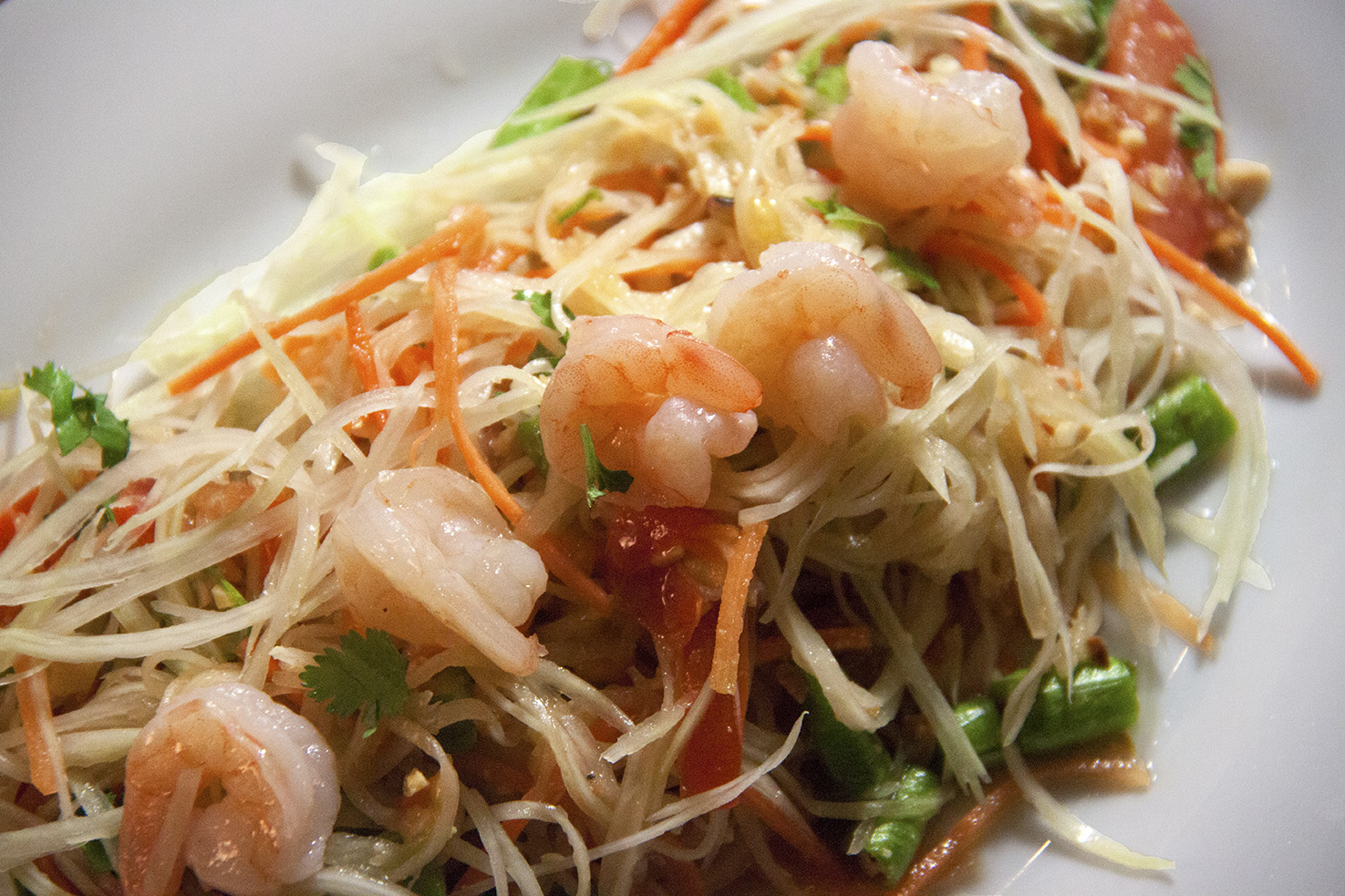 300 g, fried Thai jasmine rice with eggs, fresh carrots and spring onion and …

300 g, fried rice noodles with tofu, eggs, fresh carrot, leek, onion, ground peanuts  and tamarind sauce
Spicy stir-fried chicken pieces (130 g) in oyster sauce with cashew nuts, carrot, champignons, pepper and onion.
Beef sirloin sauté (180 g) with oyster sauce, mushrooms and capsicum.
Salmon steak (200 g) in spicy red curry sauce with coconut milk.
Very spicy sauté from prawns and squid (180 g) with green beans and thai basil.
Chiang Mai Chicken – chicken legs, fresh egg noodles chopped coriander, sugar
1/2 crispy duck (300 g) in sweet-piquant panaeng curry sauce with coconut milk.
Whole tilapia  (800 g) coated in sea salt and roasted on a strong fire. The fish is served with piquant chilli sauce, cooked rice noodles, big portion  of fresh vegetables and herbs. Price is for 500g, every extra 100g = 80,-
Seabass in a very spicy sour soup with aromatic thai herb (lemon grass, galangal roots, kafir lime leaves and krachai roots) vegetable (beans, carrots, chinese cabbage, broccoli).
500 g, spicy green curry with coconut milk, basil and vegetable with a choice of meat …
500 g, spicy red curry with coconut milk, basil and vegetable with a choice of meat …
Si Krong Mu Phad Phak Choi
Grilled pork belly, stir fried in oyser sause with garlic and bok choi.
Kung Kra Tyam  ( 5 krevet / 5 prawns )
Stir-fried whole prawns (200 g) with crushed black pepper and garlic.
Extra spicy sauté with fresh green beans and sweet basil with a choice  of meat …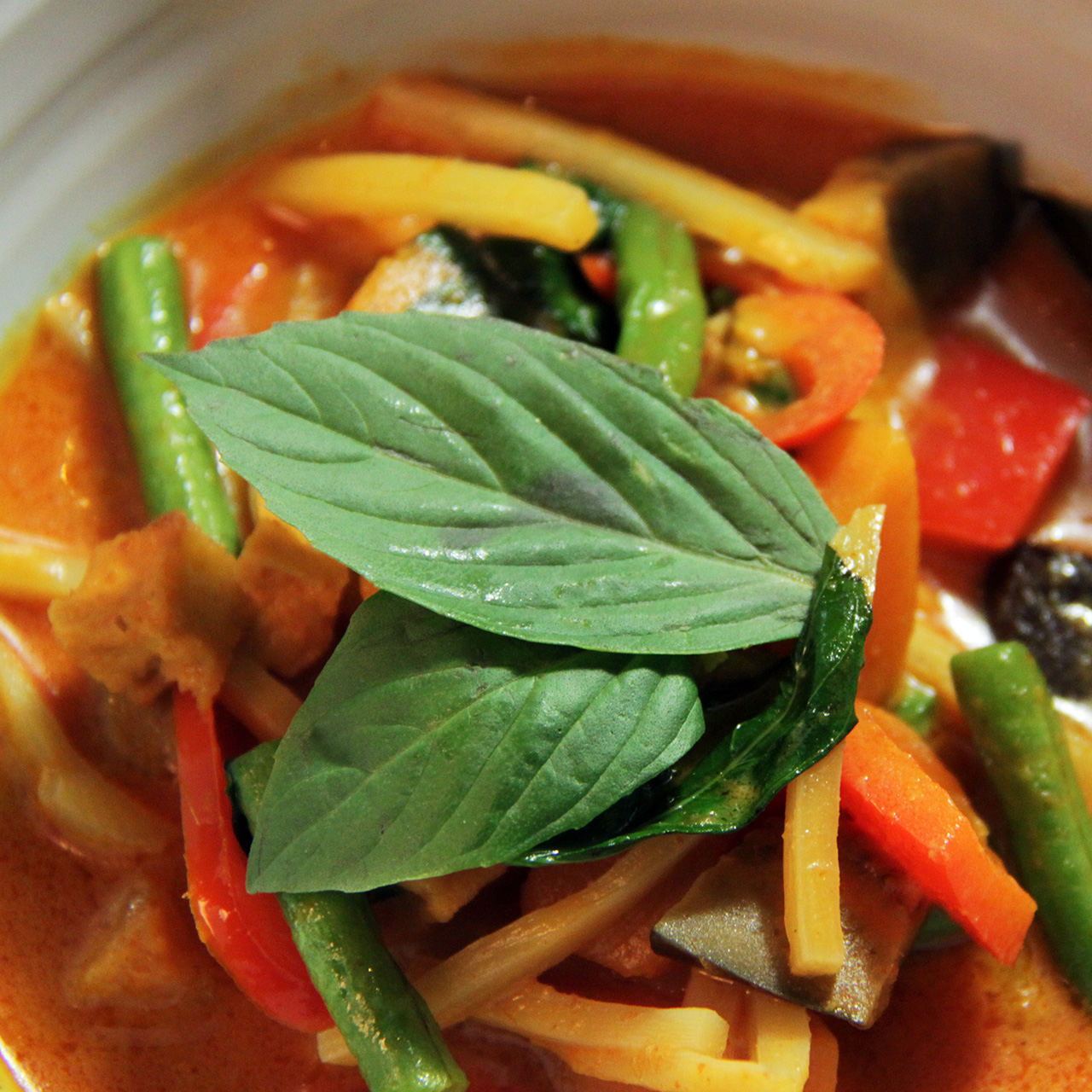 fish sauce, garlic and lemon juice
Change chicken for pork
and vice versa
Bananas in sweet coconut milk.
Fried pineapple served with honey.
Mattoni minerální voda 0,33l
Mattoni minerální voda 0,75l
Aquila minerální voda 0,33l
Aquila minerální voda 0,75l
Decanter of tap water  0,25 l
Decanter of tap water  0,5 l
Decanter of tap water  1 l  
Coca-Cola / Coca-Cola Zero 0,20 l
long water, shot of espresso
espresso with hot milk and frothed milk
espresso, hot milk, milk foam
Hruškovice / Slivovice Bartida 0,04 l
Johnnie Walker Black Label 0,04 l
A.E. DOR Selection V.S. 0,04 l